---
Call our specialists for free shipping!
Call a specialist today
William:1-705-446-6304
Dustin: 1-705-293-2233
Email
info@poolproductscanada.ca
A NEW CLASS OF NON-CARTRIDGE FILTRATION
No longer using "cartridges", Sta-Rite's advanced technology has brought an entirely new class of filtration to your pool. The modular media concept incorporates the latest in media science, perfectly balanced flow, and an integral manifold design: namely, ultra-capacity filtration. This filtration concept puts totally care-free operation within reach. Modular filter tanks allow for quick change of filter medias without changing the tank. Contemporary style and matte black finish look attractive in any pool setting.
Sta-Rite Item Code: S7M400
Features
Typical installation - inground pools, inground hot tubs and water features.
Durable, two-piece tank housing constructed of Dura-Glas, the leading glass-reinforced composite resin.
The innovative balanced flow design is the standard of the industry.
Complete media coverage combined with shallow pleats means greater dirt-holding capabilities for longer filter cycles and less cleaning.
Simply hose off the elements in a matter of minutes - makes servicing a seal.
Dual drain plugs - side lug available for plumbing to waste, and bottom plug drains entire filter.
Note: No backwash valve is required.
Product Components 
1. An Up-Close Look - Top-mounted pressure gauge is conveniently positioned for easy reading.

2. Stands Tough Year After Year - DuraGlas is an exclusive high-density composite resin, will never corrode and weathers the elements.
3. Easy Access - Pos-Lok clamp provide easy access to the filter module. 50 | 50 split tank design provides extra room for cleaning and service. Fast in, fast out!
4. Powerfully Smooth - 2" plumbing ports improve hydraulic flow, which allows the pump to work more efficiently.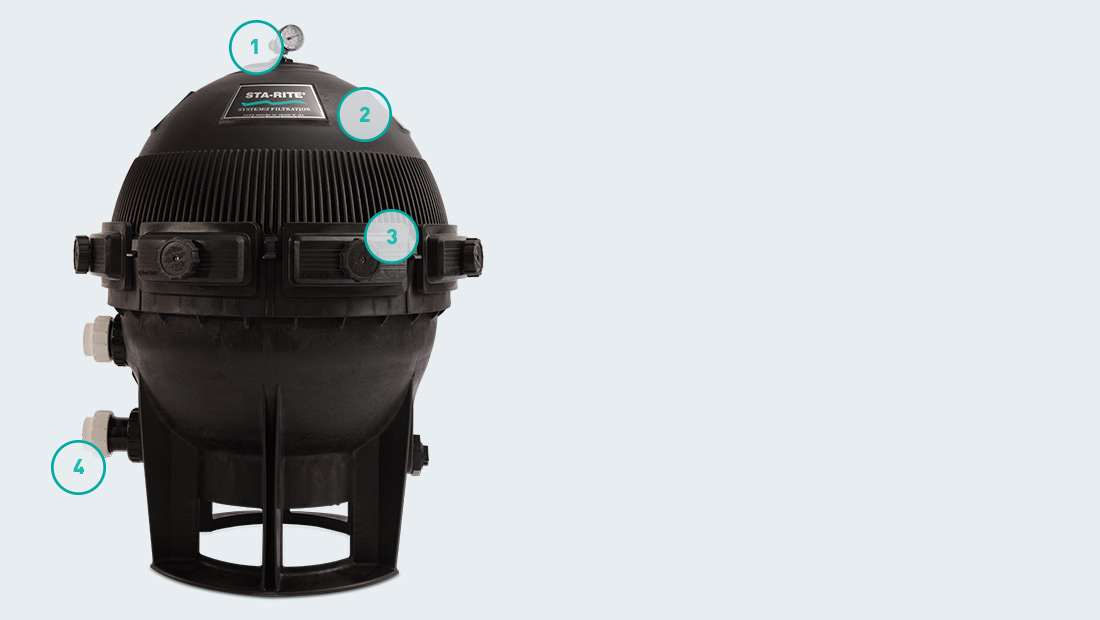 Payment & Security
Your payment information is processed securely. We do not store credit card details nor have access to your credit card information.