THE MOST EFFICIENT SINGLE CARTRIDGE FILTER SYSTEM EVER
The Clean & Clear RP Cartridge Filter has a side-entry port,, which provide nearly 50% more efficiency than any other single-cartridge filter available. Inside, the Clean & Clear RP filter has increased cartridge surface consistency to block and trap particles as small as 20 microns. The result is picture-perfect pool water and lower energy use.
Pentair Item Code: EC160353 (Alternatively 160353)
Features
Super-efficient cartridge is easy to remove and rinse.
Low-force, quick-connect diamond-seal fastens easily with no tools required.
Chemical-resistant tank body.
Drain and wash for quick and convenient maintenance and winterization.
Easy turn lock ring.
Maximized cartridge surface consistency blocks and traps particles as small as 20 microns - (An average grain of beach sand is 1,000 microns).
Note: Actual system flow will depend on plumbing size and other system components.
Note: Pentair doesn't to recommend flow rates above 150 GPM.
Integrated Continuous High Flow Internal Air Relief is operational only when there is unobstructed flow in the circulating system.
Product Components
1. Low-force clamp ring opens and closes easily for quick access to cartridge.
2. 2" x 2" plumbing for maximum flow; innovative side entry maximizes energy efficiency.
3. Single-piece fibreglass-reinforced polypropylene tank for strength and corrosion resistance.
4. Easy access 1" drain.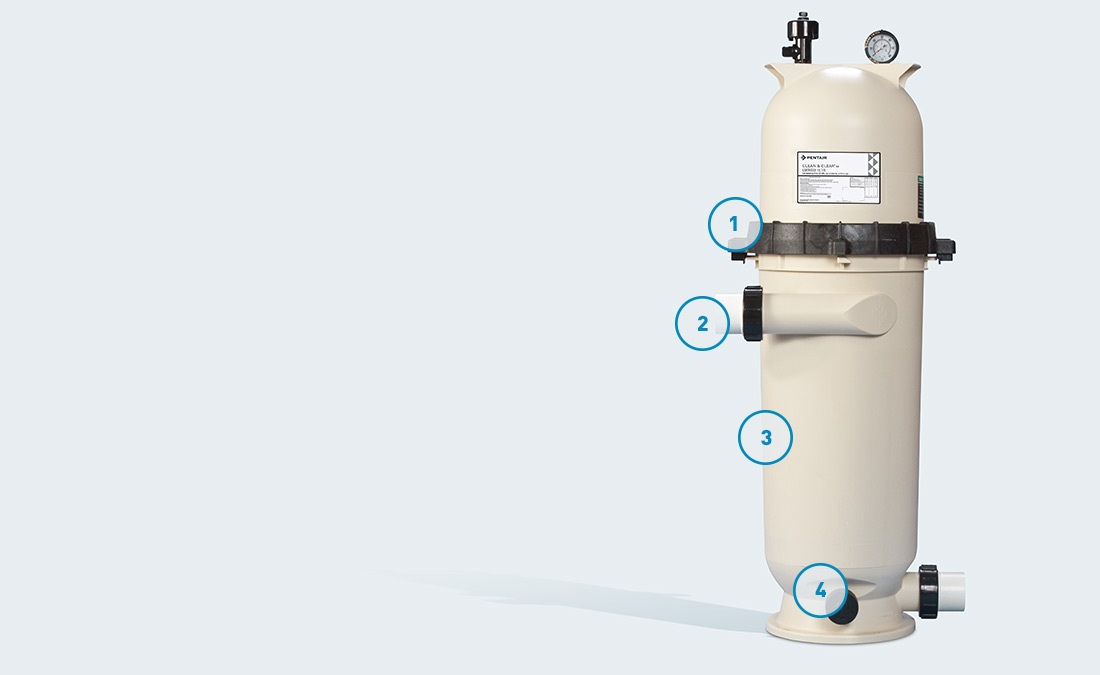 Payment & Security
Your payment information is processed securely. We do not store credit card details nor have access to your credit card information.