---
Call our specialists for free shipping!
Call a specialist today
William:1-705-446-6304
Dustin: 1-705-293-2233
Email
info@poolproductscanada.ca
UNMATCHED DURABILITY AND EFFICIENCY
The ETi 250 transforms your pool into the spa you've been longing for. With quick heat-up times and durable TitanTough Direct-Fire Titanium, the toughest heat exchanger material, effectively warm up your pool. A great replacement for the MasterTemp High Performance Heater, with the same plumbing alignments to effectively serve your backyard oasis needs. Say goodbye to those after pool shivers and hello to a cozy and warm backyard spa.
Pentair Item Code: 461112
Features
TitanTough Direct-Fire Titanium ASME certified heat exchanger.
Certified for Ultra Low NOx Emissions.
Best-in-Class Energy Efficiency for fast heat up times and energy savings.
Indoor and outdoor rating.
Ultra-Quiet operation.
Flexible installation options including easy venting and a multiple keypad interface that can always face the way you need it to for headache-free access.
Convenient front and rear gas connection capability.
Natural and Propane option. 

Drop in replacement for MasterTemp heaters.
Product Components
1. Stands up to the toughest conditions 1,800° F flame temperatures and pool water chemistry are all in a day's work for titanium.
2. Design elements that boost durability and efficiency. No welds, crimps or joints that reduce corrosion resistance. Tubing is shaped for maximum flow and efficiency.
3. Industrial chemical processors lean on titanium. When handling concentrated chlorine compounds, industrial processors rely on the corrosion resistance of titanium piping and heat exchangers.
3 Factors to Consider in Your Heating Solution Purchase
Size of heater. Pool heaters and heat pumps are sized based on their heating capacity, measured in British Thermal Units (BTUs). A BTU is a measure of how much energy is required to heat 1 gallon of water by 1F. Most heat pumps can deliver between 100,000 – 150,000 BTUs depending on their size and most gas pool heaters are sized between 175,000 – 400,000 BTUs.
Geographic location, availability of gas, and electricity costs in your pool location are all factors in selecting a pool heater or heat pump. In general, heat pumps thrive in areas with mild to warm climates where electricity costs and low to moderate. Gas heaters aren't heavily impacted by environmental conditions and can be a great option in cooler climates where gas prices are low to moderate.
Size and features of your pool. The size of your pool may dictate which system you need. We recommend working with your pool professional to identify the right pool heater for your backyard oasis. The ETi 250 is an ideal drop in replacement for MasterTemp and Max-E-Therm heaters, thanks to its identical plumbing alignment.
Unmatched Durability and Efficiency 
EASY TO VENT PROPERLY: Fully sealed Category IV direct-air vent does not require large room openings for combustion air

ULTRA-QUIET OPERATION: Great for you, great for your neighbors
INSTALL IN LEFT OR RIGHT ORIENTATION: Rotatable front door allows control pad to be rotated 180 degrees, so this heater can be plumbed on the right- or left-hand side
A Metal That Gets Respect
Titanium is known for excellent corrosion resistance, high strength and light weight. The job of the heat exchanger is to capture the heat from burning gas and transfer it to your pool's water—the more efficiently, the better. But, the combination of operating heat and pool water chemistry can be tough on exchangers, leading to corrosion and failure. That's why we made the ETi 250 High-Efficiency Heater's direct-fire heat exchanger from titanium. It provides long life under extreme conditions.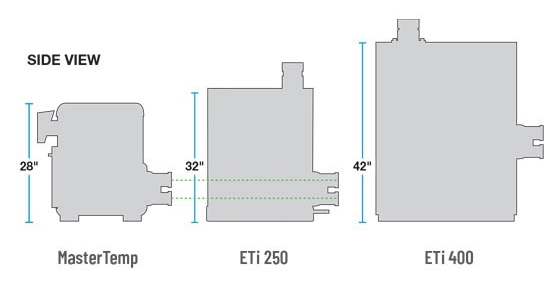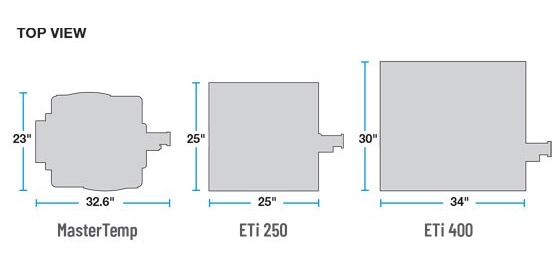 Payment & Security
Your payment information is processed securely. We do not store credit card details nor have access to your credit card information.